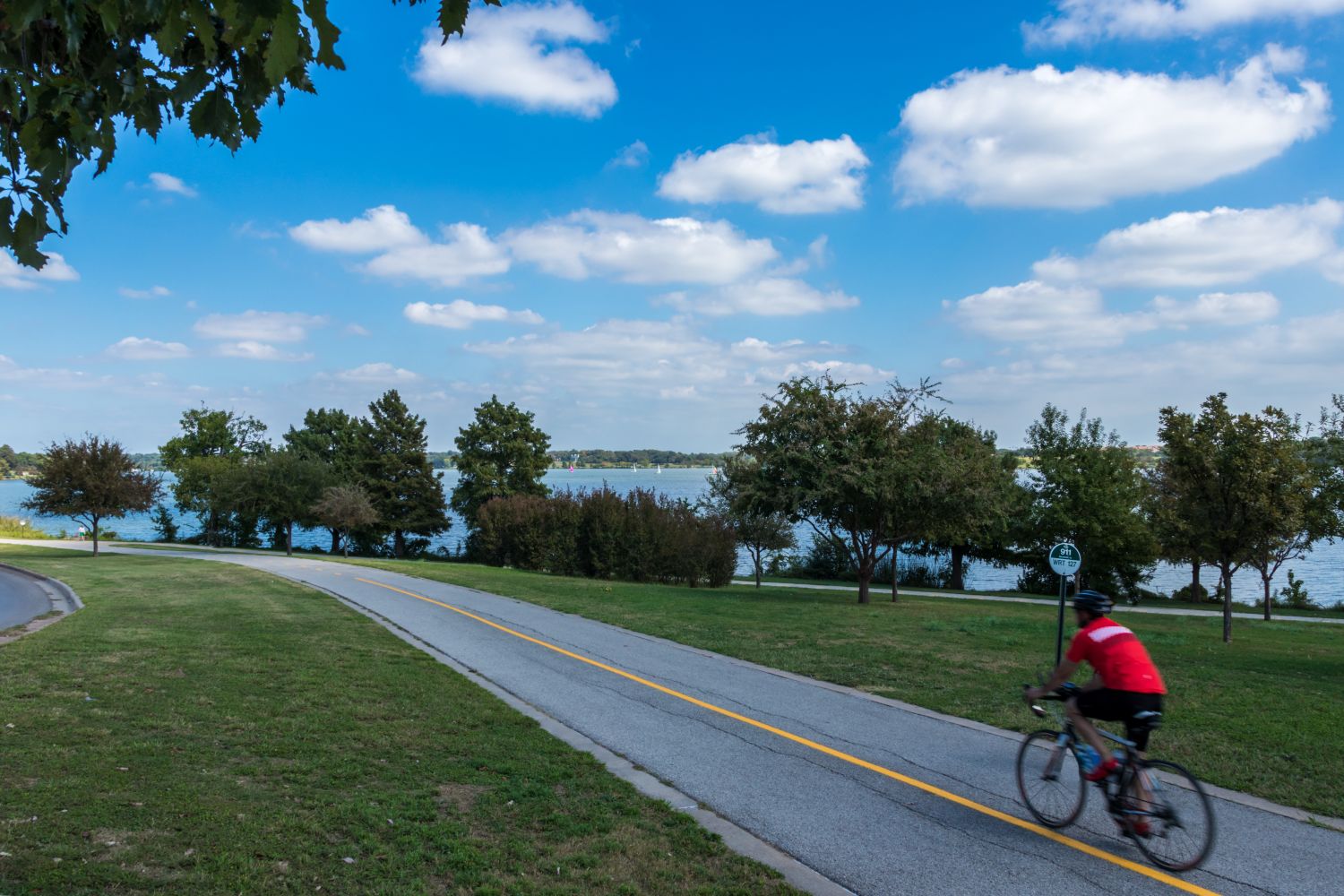 White Rock Lake is a reservoir located in north-east Dallas, Texas. The lake was formed by damming White Rock Creek, which today widens into the lake before continuing south out of the spillway and emptying into the Trinity River. The 1,015 acre lake is located at 8300 East Lawther Drive.
Construction on White Rock Lake was completed in 1911, residential construction around the lake increased, and in the early 1930s the Dallas Park Board began developing the lakeshores into a municipal park. In 1943 the government used the barracks at Winfrey Point to house German prisoners of war who had served in Rommel's Afrika Corps. In 1992 White Rock Lake Park was a center of recreational activity for central Dallas, providing picnic areas and bicycle and jogging paths.
White Rock Dam was completed in 1911 for storm water control and municipal water supply. With a maximum storage capacity of 39,400 acrefeet, the facility is owned and operated by the City of Dallas.
After its function primarily as a water source was supplanted, White Rock Lake continued to serve as a recreational lake for both the City of Dallas and suburban residents. Area residents wanting to get away from home, constructed cabins on leased property along its shoreline.
White Rock offers a number of activities, with rowing being at the top of the list. They have a historical boathouse and dock where boats are launched off of.
Current recreational activities on the lake include sailing, kayaking, canoeing and standup paddle boarding, available by rental.
The lake is surrounded by White Rock Lake Park, which features a 9.33 mile trail for hiking, running and bicycling, the Bath House Cultural Center and the Dallas Arboretum and Botanical Garden. There are several fishing piers and sailing is permitted.
Today, the park has an ecosystem that includes grasses, trees, flowers and wildlife that are indigenous to the North Texas area. Dozens of species of birds call this lake home. The ecosystem of the waterfront makes it a perfect nesting place for small and large water birds.
A Dallas legend is the story of the Lady of White Rock Lake. White Rock Lake Park is reported to be haunted by the ghost of a twenty-year-old-looking girl, described as wearing a water-soaked 1930s evening dress, who usually appears at night along the roadside of East Lawther Drive. Witnesses claim the phantom asks to be taken to her home on Gaston Avenue in Dallas before disappearing in the car during the ride leaving a waterlogged car seat.
White Rock Lake is the location of many runs, and is one of the best places to experience natural areas and wildlife in an urban setting.
Call Linda Reyna, 214.808.5353 to find your home in White Rock Lake!